Class Action Filed as to Tainted Pet Foods
Class Action | 2007/03/30 15:28


With a continuing rise in the number of pets harmed or killed by tainted pet food, the next inevitable phase of the calamity is unfolding: Lawsuits. At least six class action suits already have been filed against Menu Foods, the Canadian firm that has recalled millions of servings of pet food that it manufactures for 42 brands of cat food and 53 brands of dog food sold nationwide.

In Oregon alone, at least 28 animals have died after eating the food - including five dogs in Springfield and one in Pleasant Hill, and two cats each in Eugene and Springfield and one in Pleasant Hill. Ill animals also have been listed in Veneta and Cottage Grove, according to the latest numbers from the Oregon Veterinary Medical Association.

"This is really tragic. It sounds like it is going to be really huge," said Michele Smith, an attorney with the Eugene firm of Johnson Clifton Larson & Schaller.

People with potential legal claims react in different ways, she said. Some wait until most of the facts are known. Others want to rush right to a lawyer, Smith said.

advertisement Pet owners such as Allan Hall of Eugene are not waiting. Hall said he has been angry since his 15-year-old dachshund, Tabbitha, died March 13, within days of eating food that was subject to the recall.

"This was my best friend for 15 years. I was with her since she was six weeks old," Hall said Thursday.

Hall compiled his veterinary records, got help from a retailer to get a copy of his receipt for the food and contacted the Food and Drug Administration to register his case. Then he got on the Internet to contact a law firm in Wisconsin that has filed a class action lawsuit.

"I am interested in joining a class action lawsuit," Hall said. "The only thing that will make me feel better is that this company will not make pet food again. That's what I want."

Smith said pet owners should save unused food portions, labels from containers, store receipts, veterinary reports and bills, along with photographs of their pet or other evidence that might bolster their legal claims.

The Menu Foods litigation is only beginning, she said. Company and government officials have not yet confirmed the source of the problem, much less who may be responsible and what can be done about it. The company has said publicly that it will cover the veterinary bills of affected animals.

Nevertheless, hundreds of pet owners already have contacted the Seattle law firm of Myers and Company, one of the firms seeking class action status for a lawsuit against Menu Foods, said Tom Baisch, an associate attorney with the firm.

Affected pet owners need not hurry to sue, he says. The first hurdle will be convincing a judge that the cases are enough in common to be handled as a class. If so, the cases will be consolidated, with a panel of attorneys working to resolve it for all affected pet owners.

If a judge accepts the suit as a class action, affected pet owners are presumed to be a part of the class, he said. However, they need to file their information with the Food and Drug Administration or contact lawyers who have filed the lawsuits so they can receive information about the case, he said.

Pet owners can contact the FDA consumer complaint coordinator at (425) 483-4949 to report cases of illness or death due to the recalled food. Owners must report the specific product name, lot numbers of the product, and provide a veterinarian's report and diagnosis.

Owners need not pay legal fees to be part of the case. When the case settles, they can choose whether to accept the deal or withdraw and pursue their own lawsuit, Baisch said.

"It could take months. It could take years," Baisch said.

The list of recalled food: www.menufoods.com/recall
L.A. Residents Sue Menu Foods After Pet Illnesses
Class Action | 2007/03/29 09:11


Two Los Angeles residents have filed a lawsuit against Menu Foods of Ontario, Canada, alleging the cat food company is to blame for their cats' recent health problems, according to court papers. The lawsuit, which seeks class action status, is asking for unspecified damages.

Kaye Steinsapir said she thought she was feeding her cat, Lila, one of the healthiest, most nutritious cat foods available.

"Lila was a healthy, vibrant cat without any medical conditions," said the lawsuit filed Tuesday in Los Angeles Superior Court. But in recent weeks, Lila began vomiting, drinking an excessive amount of water and was eventually diagnosed with acute kidney failure, the lawsuit said.

Complete list of recalled brands of pet food.

Gregory Helmer, a Los Angeles attorney retained by Steinsapir and Lois Grady of Sacramento, Calif., who alleges her cat, Riley, also became ill after eating tainted cat food, filed the lawsuit "on behalf of themselves and all others similarly situated."

Menu Foods recalled on March 16 several brands of dog and cat food products nationwide. Scientists at the New York State Food Laboratory last week identified the rodent poison aminopterin as the likely culprit in a scare that prompted the recall of 95 brands of "cuts and gravy" style dog and cat food by Menu Foods of Ontario, Canada.

Class Action Suit Filed Against Worldspace, Inc.
Class Action | 2007/03/26 09:28

NEW YORK, NY -- The Rosen Law Firm recently announced that it has filed a class action lawsuit in the U.S. District Court for the Southern District of New York on behalf of a class consisting of all purchasers of the common stock of Worldspace, Inc. (the "Company" or "Worldspace") (NASDAQ: WRSP) pursuant and/or traceable to the Company's August 4, 2005 Initial Public Offering (the "Class"). Purchasers of WorldSpace shares on the open market are also eligible to join the class action.

The complaint charges that Worldspace and certain of its present officers and directors violated Sections 11, 12 and 15 of the Securities Act of 1933 by issuing materially false and misleading statements about the Company's subscriber count. The Complaint alleges that the Company included in its subscriber count accounts that had either expired or been "churned." The Complaint alleges that the Company included these expired or "churned" accounts for at least 90 days after the accounts had expired or were otherwise non-paying. As a result of these adverse disclosures the Company's stock fell and members of the Class were damaged.
A class action lawsuit has already been filed on behalf of Worldspace shareholders. If you wish to serve as lead plaintiff, you must move the Court no later than May 15, 2007. If you wish to join the litigation or to discuss your rights or interests regarding this class action, please contact plaintiff's counsel, Laurence Rosen, Esq. or Phillip Kim of The Rosen Law Firm toll free at 866-767-3653 or via e-mail at lrosen@rosenlegal.com or pkim@rosenlegal.com.
The Rosen Law Firm has expertise in prosecuting investor securities litigation and extensive experience in actions involving financial fraud. The Rosen Law Firm represents investors throughout the nation, concentrating its practice in securities class actions.

To view the complaint or to join the Worldspace class action, go to the website at http://www.rosenlegal.com or call Laurence Rosen, Esq. or Phillip Kim, Esq. toll-free at 866-767-3653 or email lrosen@rosenlegal.com or pkim@rosenlegal.com for information on the class action.
Class Action Against Con Agra is Nationwide
Class Action | 2007/03/26 09:18

Plaintiffs' counsel Kathryn E. Barnett announced today that 32 consumers, including the parents of nine children that became seriously ill after eating Peter Pan or Great Value peanut butter, spanning 16 states filed an amended class action complaint today against the international food conglomerate ConAgra Foods, Inc. The proposed class consists of all persons nationwide that contracted Salmonella Tennessee from eating ConAgra's contaminated peanut butter, which was all manufactured and packaged in a single location – ConAgra's plant in Sylvester, Georgia.

"This case shows that the number of 425 persons made ill from eating Salmonella tainted peanut butter as reported by the Center for Diseases Control constitutes a gross underestimate," stated Kathryn Barnett of the national plaintiffs' law firm Lieff Cabraser Heimann & Bernstein, LLP. "We believe thousands of consumers have been made sick over the past two years. Since the recall was announced in February, our law firm alone has been contacted by over a thousand persons that have reported symptoms of Salmonella poisoning, including fever, stomach cramps and severe diarrhea which in many cases required hospitalization."

The plaintiffs in the nationwide class action lawsuit reside in Albertville and Flomaton, Alabama; Cabot and Romance, Arkansas; Oakley, California; Manalapan, Palm City and Winter Garden, Florida; Chatsworth and Dalton, Georgia; Hymera, Indiana; Paducah, Kentucky; Lake Charles and Slidell, Louisiana; Holly Springs, Mississippi; Jackson, Ohio; Camden, Friendship and Nashville, Tennessee; Richmond, Texas; Manning and Newberry, South Carolina; Jackson, Ohio; Grandview, Washington; and Lenore, West Virginia. The case, entitled Ware v. ConAgra Foods, Inc., is before the Federal court in Rome, Georgia.

"My husband and I were terrified when our son became so sick. We called our pediatrician and raced to the Emergency Room with him," stated plaintiff Kelli Hamman of Flomaton, Alabama. "I never dreamed it could have been caused by peanut butter. I don't understand why my son and other children had to suffer like this, and I hope ConAgra will take responsibility and answer to every family that has suffered."

Ms. Barnett advised consumers: "If you have suffered symptoms of contaminated peanut butter, do not discard the evidence; instead mark the peanut butter with 'Do Not Eat' or 'Contaminated' and make certain the jar is stored in a safe place that is beyond the reach of children. The peanut butter can be tested for the presence of Salmonella."

Representing the plaintiffs are Kathryn E. Barnett of the Nashville, Tennessee office of Lieff Cabraser Heimann & Bernstein, LLP; Clay Jenkins of Jenkins & Jenkins, PC, of Waxahachie, Texas; and Robert H. Smalley, III, of the Dalton, Georgia law firm of McCamy, Phillips, Tuggle & Fordham, LLP.

Consumers stricken by Salmonella poisoning who wish to learn more about the lawsuit and report their experiences to plaintiffs' counsel should visit http://www.personalinjurylawyeramerica.com or contact injury attorney Kathryn E. Barnett toll-free at 1-866-313-1973.

Members of the media who wish to receive a copy of the complaint should contact Brandan De Coteau at bdecoteau@lchb.com
Law Firm Getting Many Submissions For Pet Food
Class Action | 2007/03/23 22:23


A Madison law firm that filed a class-action lawsuit in the wake of a massive recall over contaminated pet food said it has been getting many submissions. Progressive Law Group, LLC, filed a class-action lawsuit earlier this week. The firm said that it's getting 20 to 30 submissions on their Web site every hour and that they are now working with attorneys across the country in the handling of the case.

"The stories are so tragic our staff numbers are sorting out the information and they actually broke into tears," said Frank Jablonski, an attorney with Progressive Law Group, LLC. "This is an enormous mess-up by these companies and the amount of tragedies by these companies is huge and terrible."

Meanwhile, the company at the center of the recall is speaking out for the first time since the recall.

"Our hearts go out to the thousands of pet owners across Canada and the United States for their losses and their worries," said Paul Henderson, president and CEO of Menu Foods.

The company said it is grateful that investigators have finally pinpointed a cause. Investigators said that rat poison contaminated the pet food.

The manufacturer said it will take responsibility for veterinary costs linked to the tainted food.

As of Friday, the contaminated pet food has been blamed for at least 17 animal deaths. That number represents the confirmed cases, so the number of deaths could increase much more, WISC-TV reported.

Scientists said the Menu Foods brand of wet and gravy style food was contaminated by rat poison, but they don't know how the poison got into the food.

For information on the pet food lawsuit, visit ProgressiveLaw.com
Class-action lawsuit launched over pet food
Class Action | 2007/03/23 09:59


Jacqueline Johnson of Madison, Wisconsin filed a lawsuit Tuesday claiming that Menu Foods, Inc. produced and distributed dangerous pet food. More than 95 pet owners have joined a class-action lawsuit against Menu Foods Inc., saying it produced and distributed pet food that might be dangerous, and possibly deadly, to animals.

The complaint contends her gray tabby, Gumbie, became ill after eating food from an Iams Select Bites pouch in early February. Gumbie became lethargic, refused food and lost weight, she said, and a veterinarian diagnosed acute renal failure. The cat was "pet-hospitalized" and prescribed intravenous fluids.

Johnson told CNN she considers herself lucky. "Thankfully we got her to the vet in time. My cat was very ill, but there are lots of people around the country whose pets have died or been euthanized."

Since coming home, Gumbie has required a great deal of care. "It is stressful to have to stick a needle in the cat every day," said Johnson, who has had to administer daily subcutaneous fluid-and-drip injections since bringing Gumbie home.

Gumbie is likely to require medical tests and monitoring every few months, and Johnson expects this will increase her expenses considerably. She said she already has paid more than $3,000 in veterinary bills.

Johnson's attorney, Frank Jablonski of Progressive Law Group, said more than 95 people have joined the suit since it was filed, and he expects many more.

"We have all the clients we need," he said. "We wouldn't bring a lawsuit that we are not confident we will win." The lawsuit is seeking an unspecified amount of damages. Courts will have to certify the class and what venue will hear the case.

Menu Foods spokesperson Sam Bornstein declined to comment on the lawsuit but said the company has received tens of thousands of consumer inquiries and is doing its best to respond to them. "Our hearts go out to many thousands of pet owners, some of them for their losses and some for their worry," he said.

Menu Foods announced the precautionary recall March 16. The recall affects dog and cat food manufactured between December 3 and March 6, and is limited to "cuts and gravy" style pet food in cans and pouches produced at its plants in Kansas and New Jersey. The food is packaged under a wide variety of brand names.

Both the Food and Drug Administration and Menu Foods have been unable to identify the root cause of the problem, but the FDA said Tuesday that officials were focusing on a recent supply of wheat gluten as the likely culprit.
FDA confirms salmonella came from peanut butter
Class Action | 2007/02/24 10:33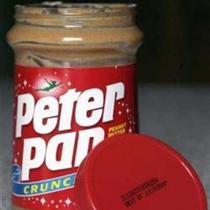 An outbreak of salmonella food poisoning that has sickened 329 people and sent 51 of them to the hospital was definitely caused by contaminated Peter Pan and Great Value peanut butter, the U.S. Food and Drug Administration said on Friday. The FDA has warned consumers not to eat any Peter Pan peanut butter bought since May of last year and to throw out any Great Value brand -- sold by Wal-Mart Inc. -- with the lot number 2111 on the lid.

"Product testing by several states has now confirmed that Peter Pan peanut butter and certain Great Value brand peanut butter are the sources of the foodborne illness outbreak of Salmonella Tennessee that began in August 2006," the FDA said in a statement released late on Friday.

"To date 329 individuals have become ill from consuming the contaminated peanut butter, and 51 of those persons were hospitalized."

The FDA said the outbreak was still going on. "Potentially contaminated products include 3/4 ounce and 1.1 ounce single serving packs of Peter Pan brand peanut butter," the FDA said.

Class action or a representative action is a form of lawsuit in which a large group of people collectively bring a claim to court and/or in which a class of defendants is being sued. This form of collective lawsuit originated in the United States and is still predominantly a U.S. phenomenon, at least the U.S. variant of it. In the United States federal courts, class actions are governed by Federal Rules of Civil Procedure Rule. Since 1938, many states have adopted rules similar to the FRCP. However, some states like California have civil procedure systems which deviate significantly from the federal rules; the California Codes provide for four separate types of class actions. As a result, there are two separate treatises devoted solely to the complex topic of California class actions. Some states, such as Virginia, do not provide for any class actions, while others, such as New York, limit the types of claims that may be brought as class actions. They can construct your law firm a brand new website, lawyer website templates and help you redesign your existing law firm site to secure your place in the internet.
Law Firm Directory